We are accepting registration for the Water Experience 15 course and have extended the Deadline to Thursday, June 23 @ 11:59 PM.
There is an information session for this program today, Wednesday, June 22 at 7 pm. Here is the link to join: 
Water Experience Info Session
Wednesday, June 22 · 7:00 – 7:30pm
Google Meet joining info
Video call link: ipp-daso-nxr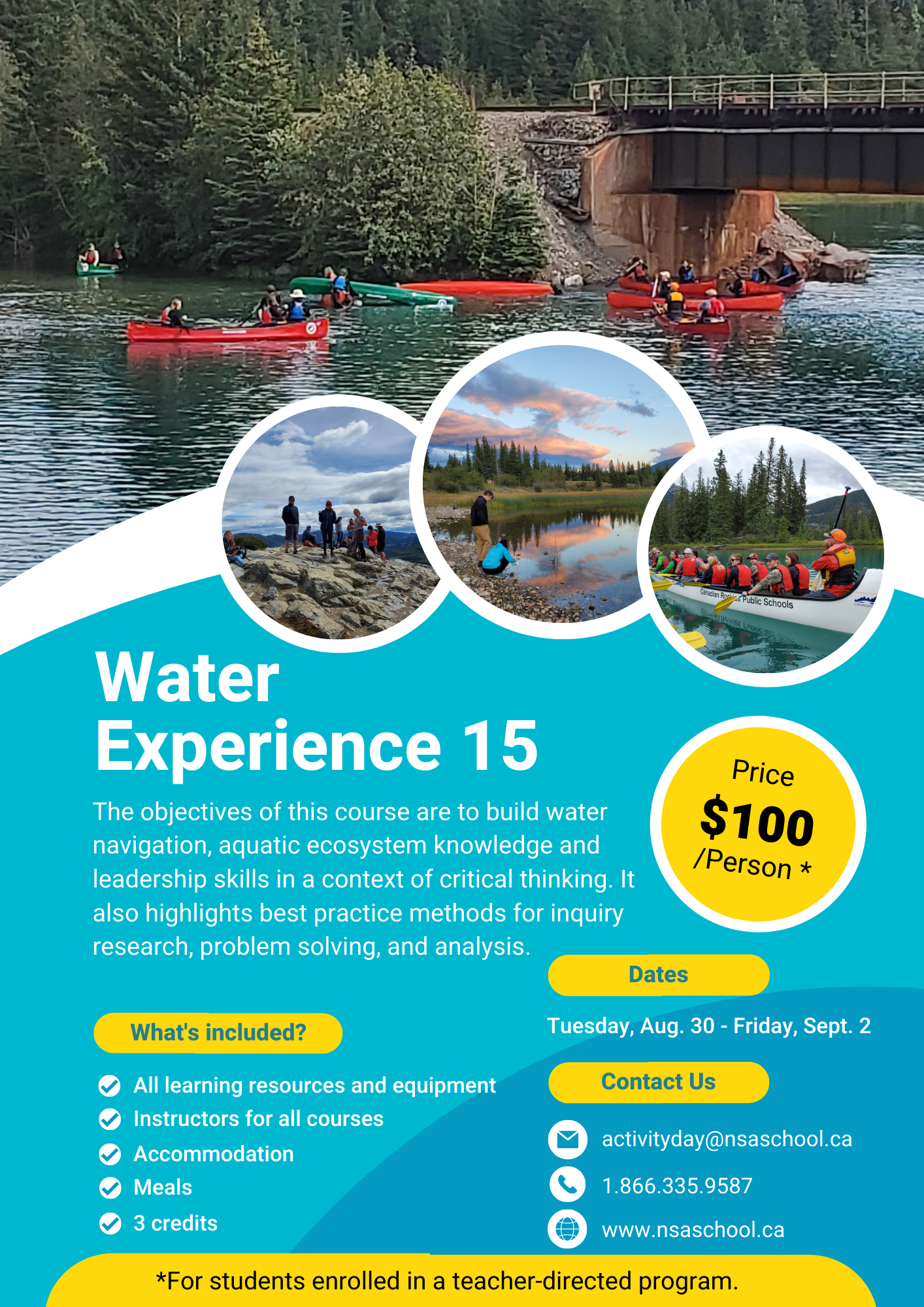 Wanna earn THREE high school credits for participating in canoeing, shelter building, hiking, etc. at Kananaskis next school year?
I am pleased to inform you that we can offer the following course for next year! Please click on the link below to watch a video about this program!
The cost is $100 for students enrolled in a teacher-directed program. (Online or Print Based Resources)
Unfortunately, due to how Home Education students are funded, they are not eligible to take this course for the $100. They will need to pay the full tuition fee to attend the course. Full tuition for these courses is $1350. Please email activityday@nsaschool.ca to see how you are able to use funding for this course.
Registration is limited and on a first come, first serve basis. However, to attend this program, you must be registered with NorthStar for the 2022/23 school year. There is limited space, so sign up early to secure your spot.

The $100 non-refundable deposit is due immediately to secure your spot. Once your registration has been accepted, you will be sent an invoice for the non-refundable deposit.
To learn more, click on the links to connect to the Outdoor Learning Centre's website or videos explaining the courses and complete the survey below.
Students will be staying at the 

 Canadian Rockies Outdoor Learning Centre

 

located by Canmore and Kananaskis 

from Tuesday to Friday on the week the program runs.  

They will be staying in cabins with bunks with other students in the program.

We have a minimum number we need to meet. If we do not meet this number, we may be joining other schools for this program.

Meals, lodging and al

l learning resources and equipment (bikes, skis, life jackets, boats, etc.) are provided. You will need to eat breakfast the first morning and bring a bag lunch for that day.

You will need to provide transportation for your student to and from the Outdoor Learning Centre.

Each course has a mandatory online learning portion of approximately 6-12 hrs of work that each student 

must 

complete

 before arrival 

for the in-person 4-day, 3-night experience at their facility.

You will miss up to four school days to attend the Outdoor Centre, depending on which program you pick.

You may need to bring a laptop computer.
Here is a link to the course that describes examples of what your days at the Learning Centre would look like. Please note, these are long days filled with lots of activities! Water Experience 25 (Note the course example is Water Experience 25 but the days will look similar to the 15 course)
 
The focus of the courses is to 
provide high-quality experiential outdoor education, 
promote natural and cultural heritage, 
environmental stewardship,
connect youth with local organizations,
celebrating the legacy of the Stoney Nakoda First Nations. 
If you are interested in this unique opportunity, please complete this Google Form survey by 9 am, Monday, June 20 11:59 pm Thursday, June 23, and ensure the office has your 2022/23 registration papers (if you are just sending in your registration, please cc activityday@nsaschool.ca) and you will be invoiced for the $100 non-refundable deposit. Please fill out one form per student!
 
If you have more questions after viewing their website and the video, contact Amanda Sadler at activityday@nsaschool.ca.